Team Physical Therapy
Our hands to the service of your health
In Team physical therapy we work as a team for the benefit of the patient, addressing the issues from a multidisciplinary approach to achieve the balance of the pillars of good health: physical, emotional, nutritional, and rest
Multidisciplinary team
Health center multidisciplinary. All our experience and knowledge willing to maintain and improve the patients.

Personalized treatment
Our work philosophy is clear. To maintain the quality of care with treatments as in individual sessions. 1 patient – 1 hour
Hours of operation
Monday – Friday 9.00 – 20.00Saturday ClosedSunday Closed
Physical rehabilitation
The recovery of the lesions, together with an active life, are the key factors to maintain a good health level physics musculoskeletal.
Mental Health
The somatization of emotions directly affects the health and are expressed in many of the physical problems that we appreciate day-to-day.
Nutrition
We are what we eat. Correct eating habits to benefit the physical and emotional health by improving the cognitive function and recovery.
Physical rest
We spend much of our lives sleeping and during sleep are put in place mechanisms for physical and mental recovery.
We will help you
Our services
Reviews
What do our customers think?
Javi Sánchez-Marín
25/06/2023
Fuí a hacer rehabilitación de rodilla tras un derrame y una tendinopatia. Me atendió Marc y no puedo estar más contento. Profesional, cercano y comprometido. Ojalá más profesionales así!
Santiago Tellez Ortiz
23/06/2023
Recientemente tuve la oportunidad de compartir con Marc y Carlos en un torneo de baloncesto juvenil, dos fisios de esta clínica. Ellos dos son personas increibles con gran destreza para llevar chicos jovenes. Muestran un nivel excepcional de amabilidad y dedicación en cada interacción que tienen. Recomiendo encarecidamente esta clínica a cualquiera que busque atención fisioterapéutica de calidad en un entorno amigable y profesional. Desmuestran habilidad para recuperaciones deportivas y te hace sentir alentado.
Adrián Montero
23/06/2023
Gran adaptación a las necesidades que pueden ser requeridas, en mi caso han sido las lumbares. Repetiré seguro. Gracias, Marc! 🙌
Oliwia Jankowska
23/06/2023
Clean and comfortable place with professional physiotherapists. Marc and Carlos have a lot of knowledge and are trustworthy. I recommend their clinic to everyone who wants a great care for themselves😃
Konstancja Puzdrowska
23/06/2023
Great people with great experience and knowledge. During a huge basketball tournament, they were able to take care of every player, treating them with empathy, but also with engagement. It was a pleasure to observe people with such passion for their job and the will to help others.
Con diferencia, los mejores fisioterapeutas en Barcelona (y más allá). He visitado el centro debido a problemas en los cervicales y la cadera. En ambas ocasiones, no tuve que volver por una segunda visita porque con una sesión se me arregló todo. El centro es nuevo, limpio y muy bien mantenido. El trato del equipo es cercano, amable, siempre comprensivo y empático, lo cual marca una gran diferencia en la experiencia. Se toman el tiempo a estudiar tu caso y cualquier antecedente, para poder determinar realmente el problema y encontrar la solución más adecuada. Acompañan el tratamiento con recomendaciones de ejercicios y hacen un seguimiento regular, con lo que te dan aún más tranquilidad y apoyo. Marc se ha convertido en una especie de médico de cabecera para mi 🙂 ya que con casi cualquier molestia o dolor prefiero consultarle primero y ver si puede hacer algo al respecto (hasta ahora siempre ha podido). Gracias a su profesionalismo y conocimientos me he recuperado en muy poco tiempo de los problemas que he tenido y lo recomiendo al 100%!
¡Excelente! Carlos, es un profesional en toda la extensión de la palabra. Pero sobre todo un profesional muy humano y muy honesto.
Àlvaro Espí Mas
14/06/2023
He tingut la grata sorpresa de coneixer al Marc, i amb el seu caracter i la seua professionalitat, puc dir amb certesa que aquest equip es molt bo. A la sessió en va treballar les zones on mes dolor tenia amb molt de tacte i profesionalitat, per altra banda les recomanacions que m'ha dit per a fer a casa i tant per a cuan tinga problemes de migranya son molt eficaços i de veritat que molt recomanables aquestos ejercicis ja que funcionen molt bé, espere poder tornar-me a posar-me amb les mans d'ells. Mil gràcies sou un gran equip!
Maria Antonella Scigliano
09/06/2023
Excelente experiencia. Fui atendida por Romain en razón de una parálisis facial que padecí. La rehabilitación fue 100% exitosa y me sentí muy cómoda en todo el proceso. Recomiendo sin dudarlo.
Rebecca Andrea Dixon
06/06/2023
Llevo años yendo a sus profesionales por problemas varios de contracturas, en esta y en su anterior consulta. No solo te dan un trato profesional y efectivo, sino que también te ayudan a mejorar la higiene postural para que tengas menos problemas a la larga. Siempre los recomiendo, 100%!
Professional
Our team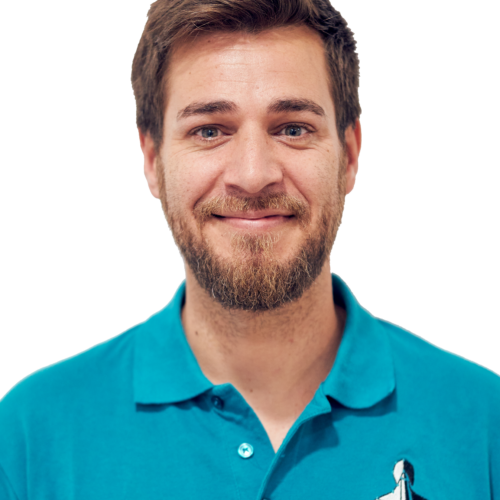 Lu and Vi: 9:00-14:00h
Ma and Ju: 15:00-20:00h